Description
Gasworks are delighted to announce the new collection of flueless gas stoves from Eko Fires. The Eko 6010 is one of the amazing freestanding, flueless gas stoves from
the collection. Sporting both efficiency and style, this Eko 6010 is all you could ever want for your home!
This freestanding gas fire significantly stands out for its eye-catching design. With a beautiful cast body of either matte black or a white finish, this stunning flueless gas fire is sure to be the centre of attention! A large glass window adds the perfect finishing touch to this fire, creating an atmosphere of pure relaxation. This fire has a realistic design of a wood burner and is available with either an arch door or an open door, allowing you to add your own personal twist to your home!
 This Eko 6010 is easily controlled manually through a slide control. This slide control is located at the front of the fire, below the glass window. The stainless-steel control slide handle matches the door handle, enhancing the sophisticated design of this fire.
 With a 100% efficiency rate, this fire is outstanding when it comes to its power, especially when compared to the 10% efficiency rate of a standard open coal fire! The more efficient, the less the running costs, meaning that you can heat your home from as little as 5.66p per hour with this high-powered gas fire. With 1.5kW of heat on its low setting and 3.1kW on its high, this gas fire is truly amazing when it comes to its efficiency!
 Whilst being efficient and stylish, this flueless gas fire is also extremely clever, sporting some of the most innovative technology available. The catalytic converter is an example of this technology. The catalytic converter converts harmful combustion gases such as carbon monoxide into harmless carbon dioxide and water vapour. The levels produced are the same which are present in fresh air. This technology also neutralises odours, allergens and particles and therefore providing a fresh, clean environment in your home.
At Gasworks, we ensure that all of our products are nothing but safe and the Eko 6010 is no different! With an oxygen depletion sensor, a flame failure device, the catalytic converter and a glass front you can rest assured that you are in good care. With all these safety features you are guaranteed a safe environment for you and your family.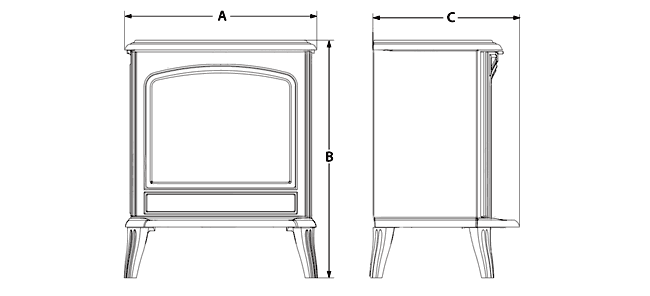 To ensure utmost safety, this fire has a few requirements. This fire is designed for a room of a minimum of 35m3 with the dimensions  W615 x H630 x D385. To get the most out of your fire, an air vent of 100cm2 is required, along with an accessible gas supply.
At Gasworks, we take pride in offering you deals that you won't find anywhere else and our Eko 6010 is no different! We can offer a 3-year guarantee, valid from your date of purchase. This will cover you in the unlikely event of anything going wrong. So, you can sit back, relax and enjoy your brand new Eko 6010.
So, if you fancy an a flueless gas stove which passes as an authentic wood burner, without the hassle of a chimney, log storage, cleaning or costs – the Eko 6010 is for you! Sporting a sophisticated design, an outstanding efficiency rate and an unbeatable guarantee, there's nothing you wont love! Contact Gasworks to impress your guests and make your house a home!
A
B
C
615mm
(24¼")
630mm
(24¾")
385mm
(15¼")